Cardthartic's 600 current designs ~ printed on cards, boxed notes and magnets ~ are carried by 2,600 of the finest card and gift shops throughout the US and Canada.  We always have and always will proudly print in the USA using soy ink on recycled paper.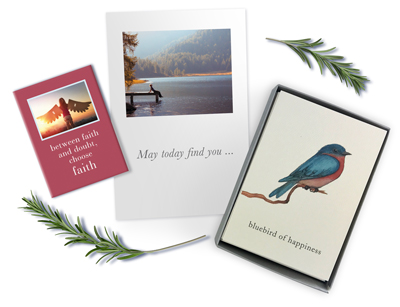 The company was founded by former Chicago public relations executive Jodee Stevens in 1992. Having sold her PR agency with plans to move abroad, Jodee was so moved and inspired by the touching notes she received when her father died, that she stayed in the States to create Cardthartic. Her goal was to raise the bar on what consumers could expect from cards and, for our initial designs, she drew from those lovely condolence messages she'd received, along with a shoe box full of other personal notes she'd saved over the years.
Cardthartic's practice of publishing "real-life messages" continues today. In fact, more and more of our card sentiments are culled from notes and emails we receive from our very own "Cardies."  These avid Cardthartic card senders write us to share their thoughts and feelings, and just happen to do so in such an eloquent way that we ask if we might publish what they have to say. Check out our Contributing Cardies section.  Very cool.
When less than 3% of all women-owned businesses ever generate more than $1 million in annual sales, we feel fortunate to well-exceed that. We have fun making a product we truly believe in, and get to meet great Cardies along the way!  Our staff divides and conquers the business in a very contemporary style. With thanks to Skype:
Cardthartic's Creative Team works by the ever-inspiring sea.  Jodee and Creative Coordinator Liz Biswell both live and work on Miami Beach, writing down by the water as often as they can. Creative Director Valerie Sebring designs from her own home office just up the Florida coast in Boca Raton.
Our Sales & Fulfillment Center is in the heart of the heartland, Champaign, IL (2.5 hours south of Chicago).  An ideal location for printing, packing and shipping to customers throughout the US, it also allows us to capitalize on the terrific Midwestern work ethic. Champaign is a place where caring people say what they'll do and do what they say, and are generally really, really nice.(:-)
Overall leadership is in the steady hands of Chief Administrative Officer Ana Behm, who splits her time between the ocean and the prairie, though finds herself in Champaign more and more of the time.
At Cardthartic, we think 18th-century Scottish writer Alexander Chalmers got it just right: "The three grand essentials of happiness are something to do, something to love, and something to hope for."  We sincerely hope you are as gratified by your life's work as we are.